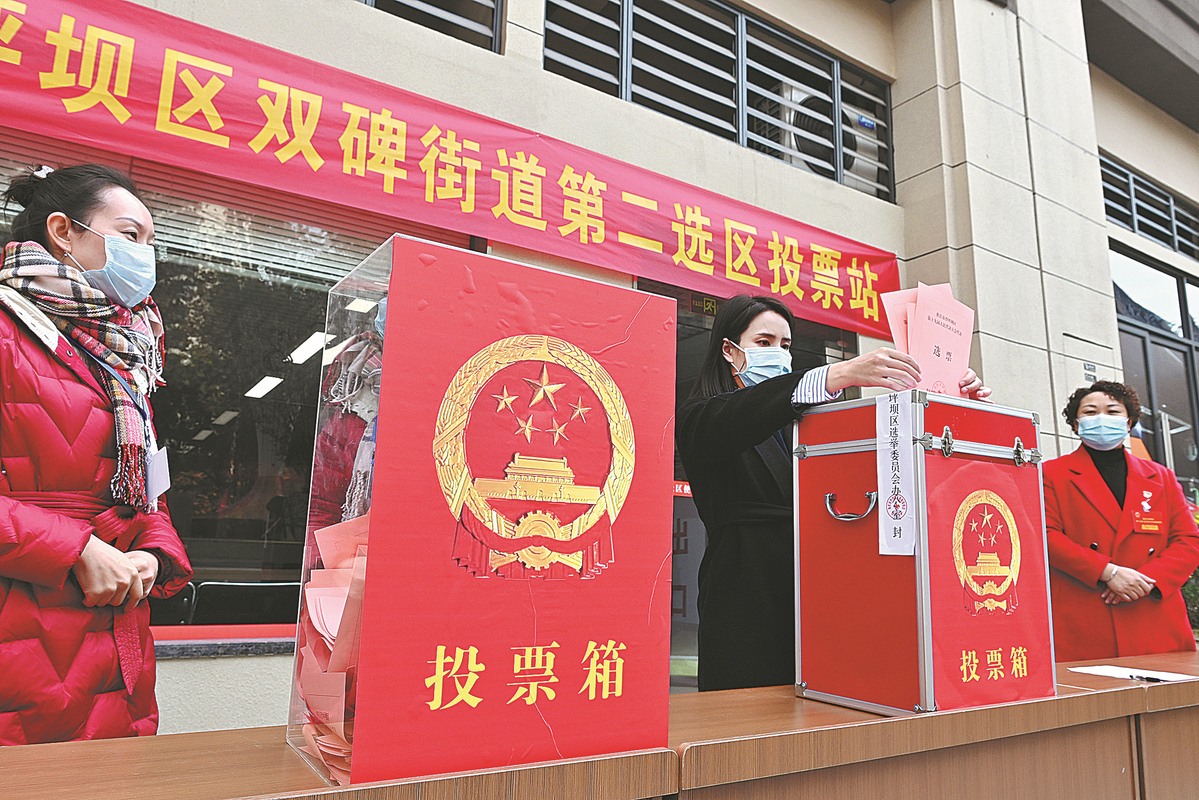 A voter casts her ballot at a polling station in Chongqing's Shapingba district on Friday. Voters in the district reelected deputies to grassroots people's congresses. [Photo provided to China Daily]
The essence of Chinese-style democracy is to respect and safeguard human rights, experts said on Sunday.
Its purpose is to realize common prosperity for the large Chinese population, achieve coordinated development of material gains and civilization and people and nature, and pursue peaceful development, said Chen Youwu, dean of Guangdong University of Technology's School of Law.
The leadership of the Communist Party of China is another important characteristic of Chinese-style democracy, which is implemented in a whole-process way that differs from Western-style democracy, Chen said at a forum hosted by Central South University's Human Rights Center.
The core of Chinese-style democracy is to let people make the decisions. All the power of the country belongs to the people, and the happiness of the people is the biggest human right, he said.
Lu Guangjin, deputy head of the China Society for Human Rights Studies, said that similar to many other countries, Chinese people won democracy after fighting for it relentlessly, and they attach great importance to it. However, it should also be remembered that due to the corruption and incompetence of the ruling class in early modern China, Chinese people did not enjoy democracy.
The CPC liberated Chinese people from oppression and exploitation and enabled them to make their own decisions and win political and human rights, he said.
Each country has its own style of democracy, and the standard to evaluate a country's democracy is whether it has safeguarded the people's interests and is supported by the people, he said.
Chinese-style democracy, which has some characteristics in common with democracies in other countries, is unique because it is socialist, people-centered, whole-process and still under development, he said.
There are profound historical and social reasons for China to embark on a democratic path different from Western ones. To easily overlook Chinese-style democracy is unwise, and history has proved that imposing one country's democratic style on another cannot lead to democracy, he added.
He Zhipeng, dean of Jilin University's School of Law, said democracy is only one type of governance model.
Moreover, democracy is a type of human right, and its implementation might influence other rights, he said.
Western-style democracy is based on voting, capitalism and partisan rivalry, while the ideal Chinese-style democracy features whole-process participation and consultation of different political parties, and aims to achieve the great rejuvenation of the Chinese nation, he added.
Chang Jian, director of Nankai University's Research Center on Human Rights, said democracy also has its shortcomings, as there are all kinds of people who have different voices. So in order to realize democracy, compromises need to be made and such policies can sometimes be the worst ones.
In order to overcome the shortcomings, Western countries have chosen elections and parliament to reach consensus, while China focuses on the Party's lead and lets the Party coordinate different opinions, he said.
China's whole-process people's democracy means democracy in elections, policymaking, grassroots-level governance and enterprise management as well as democracy in international relations, he added.