China released an official document on improving birth policies to promote long-term and balanced population development on Tuesday.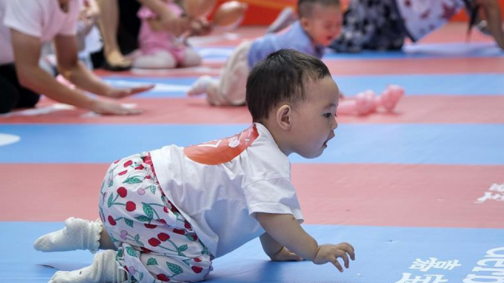 China relaxed its family planning policy on May 31, supporting couples that wish to have a third child.
The policy document, jointly adopted by the Communist Party of China Central Committee and the State Council, also put forward supporting measures to encourage births, including tax deductions and improving the public services related to family planning – particularly for child-rearing, eldercare and enhancing demographic surveillance and forecasts.
The document said China will allow tax deductions for expenses on children under three as part of a major relaxation in child-bearing policy, and local governments should take "due care" of parents with minors applying to rent public flats.
"The new three-child policy is not just a change in number. More importantly, it has policies to actively support childbirth. The central government has decided to focus on various aspects, including prenatal and postnatal care and universal childcare, education and parenting to ease the families' burdens and promote their well-being," said Yang Wenzhuang, head of Population Monitoring and Family Development at the National Health Commission.
Revision of family planning law for third child
China will also revise the law on population and family planning to legitimize the three-child policy, the document said.
The government will no longer charge a fine for couples who violate the family planning law to have more children than they are allowed, it said.
Also, how many children an individual has will no longer be a reference when they register for a household account, enroll in school and apply for a job, the document said.
Reproductive technology to be regulated
To enhance the level of prenatal and postnatal care services, the country will strengthen planning and exercise strict assessment for approval of the technology to build a service system of human-assisted reproductive technology with balanced supply and demand and rational arrangements, the official document noted.
It also highlighted the importance of preventing congenital disabilities by ensuring the health of pregnant, lying-in women and children in the meantime.
Continued protection for one- and two-child families
China will also continue to implement its current reward and assistance system and preferential policies for families with only one child and rural families with only two daughters, born before the two-child policy, the document said.
Efforts will also be made to explore setting up a leave system for children from one-child families to care for their parents, it said.