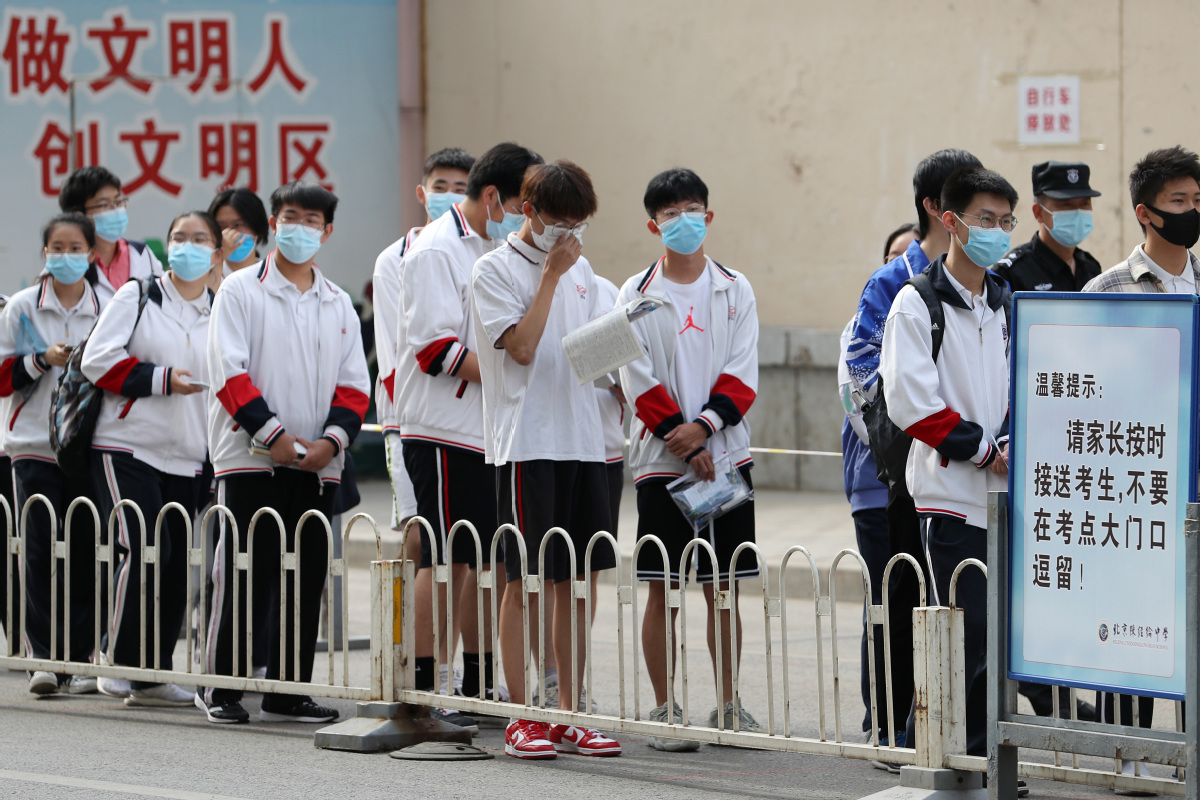 Students enter a venue in Chaoyang district, Beijing to sit the National College Entrance Examination on June 7, 2021.

On Monday the gaokao, or national college entrance exam, will roll out nationwide. Every year many students face the same question: Should they choose a hot major or simply go with the one they love?
This may explain why Zhong Fangrong, a rural girl from Leiyang of Hunan province who scored 676 out of 750 in the national college entrance examination in 2020, sparked a heated debate over whether she wasted her high score by choosing an archaeology major at Peking University.
Some netizens thought the young village girl should choose a more promising major in a bid to find a lucrative job after her graduation. Meanwhile, others expressed admiration and support for her to follow her own personal interests and aspirations.
However, it should be noted that a major can change with the times. A hot major can cool down, while some "cold" fields can heat up. For instance, Zhong is highly likely to have a bright future as China is doing more to protect traditional culture, attaching more importance to archaeology.
For example, the Sanxingdui ruins in Southwest China's Sichuan province have attracted public attention again when the provincial government announced on May 28 that it will apply for UNESCO World Cultural Heritage status together with the Jinsha ruins in the provincial capital of Chengdu.
Although people's fascination with archaeology can exceed expectations, it remains an unpopular major at universities. According to a magazine ran by the National Cultural Heritage Administration, the number of full-time professionals in the first-level archaeological institutes in China cannot meet the demand at all. For years, only a few hundreds of people would work on excavation teams in the fields. To make things worse, those academics may quit their jobs due to the relatively low wages and harsh working conditions.
But things may change. Surging interest in the Sanxingdui ruins reflects the growing popularity of museums in China. According to data from the travel reservation site Ctrip.com, museum ticket bookings during the first five months of this year grew 75 percent when compared to 2019.
Besides, news about archaeological excavations and TV programs about Chinese cultural heritage in recent years have always stirred up fierce debate on China's social media sites.
For example, TV shows such as National Treasure, If National Treasures Could Talk and Masters in Forbidden City were all big hits among the modern generation. Such programs strike a good balance between rigorous knowledge and entertainment, ensuring cultural relics resonate with young viewers. Therefore even those who choose a less popular major such as archeology will have their time to shine.
Gold glitters everywhere. If one is devoted to a dream and works hard to achieve it, that dream will come true.