China will announce the name of its first Mars rover on Saturday (April 24), coinciding with the country's Space Day, according to the China National Space Administration (CNSA).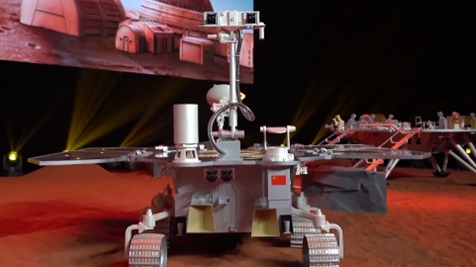 The CNSA launched a global naming campaign for its Mars rover on July 24, 2020, one day after the successful launch of the Tianwen-1 Mars probe.
The public was invited to vote for their favorite names on social media among 10 candidate names from January to February 28. The 10 names on the shortlist are:
- Zhurong, the name of the god of fire in Chinese mythology;
- Chitu, which means red rabbit in Chinese. It's similar to the name of China's lunar rover, which is Yutu, or the Jade rabbit;
- Nezha, a household name of a child capable of fire breathing in Chinese mythology;
- Fenghuolun, Nezha's major weapon, which means flaming wheels in Chinese;
- Qilin, which means kirin in Chinese, is a dragon-like creature in Chinese mythology. It's taken as a symbol of luck, good omens, protection and prosperity by Chinese.
- Hongyi, which means the quality of being broad-minded and determined in Chinese;
- Qiusuo, which means to seek (for things like knowledge or truth) in Chinese;
- Zhuimeng, which means to pursue dreams in Chinese;
- Tianxing, which means the movement of celestial bodies in Chinese;
- Xinghuo, which means spark in Chinese.
About half of the names have their origins in Chinese mythology, and have something to do with fire. That's probably because the Chinese name for Mars, Huoxing, literally means the fire planet.
The final answer will be unveiled in three days.
It's not the first time that China's space authorities invited the general public to name the country's space missions or spacecraft.
The name Tianwen-1 for the Mars mission, was also selected from 35,912 nominations, and was announced on Space Day last year.
It comes from a poem "Tianwen" written by ancient Chinese poet Qu Yuan (around 340-278 BC), meaning "Questions to Heaven."
The Tianwen-1 Mars probe, consisting of an orbiter, a lander and a rover, entered the parking orbit of the red planet after performing an orbital maneuver on February 24.
The lander and rover are expected to land on Mars in May or June, according to Bao Weimin, a senior space expert from China Aerospace Science and Technology Corporation.