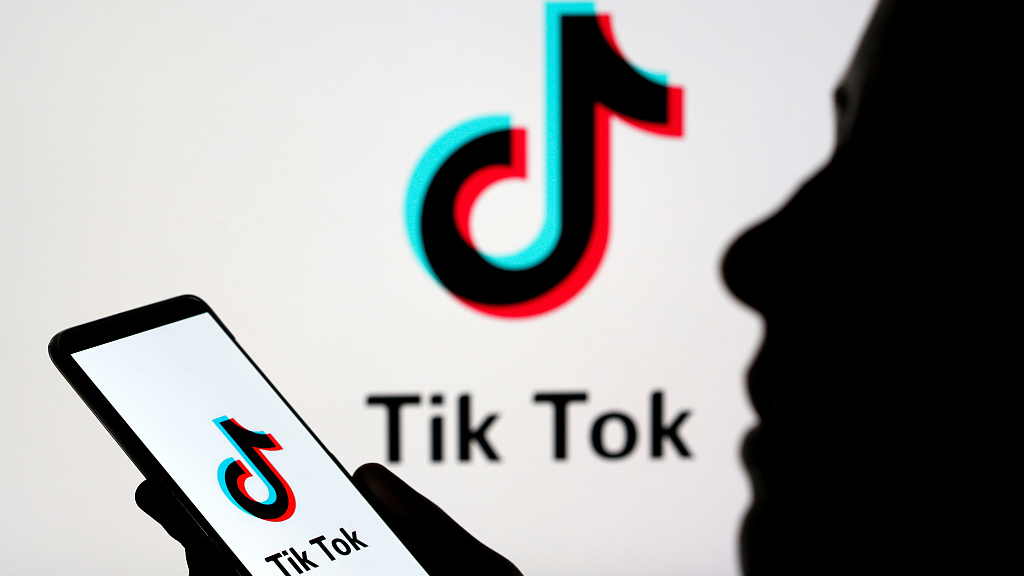 Editor's note: Bobby Naderi is a journalist, guest contributor in print, radio and television, documentary filmmaker and member of the Writers Guild of Great Britain. The article reflects the author's opinions, and not necessarily the views of CGTN.
U.S. President Donald Trump has pushed Washington into yet another abyss in his hypocritical and misguided tech war with China, further undermining diplomatic relations between the two countries.
Citing national security concerns and taking the usual suppressive approach he used against Huawei and ZTE, Trump issued executive orders on Thursday banning U.S. transactions with Chinese tech firms Tencent and ByteDance. They own the messaging service WeChat and the popular short-video-sharing app TikTok, respectively.
Beginning on September 20, the election-themed restrictions will impact app stores, cloud services and high-end hardware. With domestic politics getting more polarized, Trump is determined to get his way by blocking their communications between servers and users. It was against this backdrop that he banned Huawei, thereby alleging that its 5G equipment was leaving Americans' personal and proprietary information data exposed.
Expect the new executive orders to be challenged by owners Tencent Holdings and ByteDance. Trump will find it hard to curb their powers in global technology or explain to technology circles what his true intentions are – and whether they are defensible. The New York billionaire thinks the U.S. is automatically entitled to everything and he can walk all over Chinese companies to get it. He is avenging himself upon them not by taking just their apps and inserting himself into their future sale negotiations, but by taking from Beijing something irreplaceable – the lost trust.
We all know that Trump restricted the Chinese-owned apps the same day Facebook launched its TikTok rival Reels. The August 7 move shows that he wants to push for the sale of TikTok, used by more than a billion people, to an American company. He believes that if he cannot win the tech war, it's still his right to take the Chinese app. This shouldn't happen, if there is any justice in the world, for this is commercial suppression. Yet here we are.
It is easier to get into this new low than get out of it. It has only added fuel to the fire of mutual mistrust, putting American companies and consumers in greater loss, while destabilizing foreign tech markets. It underscores the need for commercial solutions which engages all stakeholders. They have to meet halfway, make tough choices, and prioritize certain policy items.
Put simply, all parties will have to come up with a comprehensive agreement that settles all concerns and disputes, including their security concerns. They can then address the issue of legitimate control, set clear standards to protect data, and what the consequences should be for breaching the standards. Forcing transactions or keeping Chinese apps and services offline is not the answer. It won't incur just financial costs but it will also lead to greater tensions.
To be clear, Trump and his tech-war followers are quintessential ideologues, acting in the market on the pretext of protecting American data and on the basis of paranoid assumptions. Until they permit their concerns and fears for security to be challenged and tested by commercial principles and standards, their strategic oversights and consequences of those oversights will just pile up. There will be less chance of a deal, let alone data security for them or anyone else.
Looked at from the point of view of owners Tencent Holdings and ByteDance, there are also consequences for all the other non-American businesses, as the sky is hardly cloud free. It is because of America's wars of choice that the glass of the 21st-century global economy is half empty and half broken. The question that matters more is why some only seem to see the empty part – either intentionally or unintentionally.
Call that remarkable indeed. With the drumbeats for tech war getting louder, the Trump administration officials are looking to expand the scope of their suppression, as plunder, forced technology transfers and app popularity holdups are set to go well beyond TikTok and WeChat. With a "wartime president" in the White House, they have manufactured for themselves a domestic legal system that authorizes it and a moral code that glorifies it.
There is absolutely an argument to be made that all other non-American businesses also have a hard call to make. They need to act to protect themselves from similar moves against their commercial dealings and interests in the U.S. Washington could similarly ban them from U.S. consumers, networks and technologies. It would impact their platforms and user base. Their apps would be cut off and forcibly removed from the Apple and Google app stores.
There's no question about that. The broader explanation for the excessive concerns and fears in the White House is the inherently arrogant, irresponsible and colonial nature of risk perception of Trump's tech war itself. All non-American tech companies and businesses need to consider these facts and judge things rationally, analytically and objectively. The only sound way to appraise the current situation is to profess concern for international law, internet freedom, and the U.S. going "against market principles and international rules."
The bottom line is that America's tech war will not stop with China, and the sound way is not for the non-American businesses to sit on their hands and appraise the state of the situation first. They need to fight their most pressing problem. Who's next? After all, what's to say Trump's seemingly boundless appetite for tech war will stop with China?