By Liu Junyang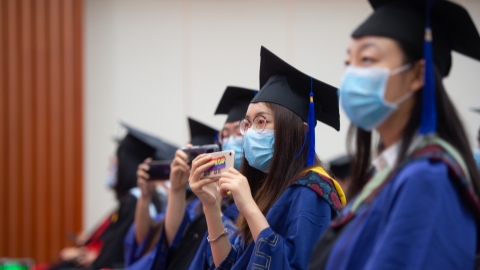 The graduation season is around the corner. But this year it is very different. It is a bit sad.
Toward the end of last month everything seemed well under control: For nearly two months there had been only a few imported COVID-19 cases in Beijing.
So my university decided to let the graduates come back. At the beginning of a Tencent Meeting, I congratulated all of them, for they will obtain the bachelor's degree after their successful thesis defense online. "You will come back and leave separately in three batches, with each stay lasting only one week ... If you choose not to return, we will have your diplomas delivered to you, at the school's expenses. But under the current circumstances, there will be no commencement ceremony."
During the Tencent Meeting, I was the only one to have the webcam on, though I was also in tears.
Then there was an outbreak in Beijing. Students who planned to come back had to cancel their tickets immediately. Those already back were caught unprepared.
Oscar Wilde once wrote: "What seems to us as bitter trials are often blessings in disguise for which we are later, in the fullness of time and understanding, very grateful for!" There is also a similar Chinese saying that "good honing gives a sharp edge to a sword, and bitter cold adds keen fragrance to plum blossom."
For the graduates this year, the pandemic can be the last lesson in their college years.
They will emerge from the pandemic maturer and stronger, after turning the crisis into many opportunities. For instance, all of them have become adept at using Tencent Meeting, Zoom or Rain Classroom.
They also learned how to go through the graduation process, look for jobs and take interviews all online. This crisis is a lesson in patriotism, heroism, volunteer work, self-reliance, discipline and social responsibility. It is a lesson in humanity encompassing sympathy and empathy. The crisis also drives home the concept of the world as a community with a shared future.
Growing up
At this special time, many of my students work as volunteers distributing donated goods or guarding the gate of neighborhoods.
One worked as an intern with the Xinhua news agency, as a member of a team covering the construction of the Huoshenshan Hospital in Wuhan, capital of Hubei Province.
Another participated in the "Stories of China Retold in English" event launched by China Education Television and the New Channel International Education Group Limited. She has already reached the final round of only 15 competitors out of 21,000. Most of my students stayed at home studying. Some learned how to cook.
On the campus it is very quiet, except for the long line of people waiting for the nucleic acid test.
At the gate of the university there is still a poster welcoming the once planned coming back of the graduates.
They are not coming back, but I believe the message still relevant: "Coming back safely is the sincere wish of the teachers, and sailing away successfully is the best blessing of the school."
Dear students of the Class 2020, you will graduate without commencement this year, or even without relevant credentials (we will have that delivered to you), but you will not leave the university without the best wishes from your school and your teachers.
You are no more students but alumni, and as your alma mater this university is always expecting your homecoming.
(The author is an associate professor at the Culture and Communications Department, University of International Relations.)